The story of
Poggio La Pia Estate
Andrea Sozzi Sabatini bought Poggio La Pia estate in 2015 after putting an end to a long career in finance between London and Zurich and Milan. Poggio la Pia is the ideal estate, where tradition and innovation blend together to produce one of the best Tuscan olive oils.
Acreage

107

Old Cultivars

Rossellino, Maremmano, Generosa

New cultivars

Arbequina, Koroneiki, Lecciana, Sikitita, Maurino Vittoria

Saved germplasm

5 cultivars yet to be catalogued
Metalliferous Hills
The Metalliferous Hills extend in the central-western part of Tuscany. The landscape is a combination of wild landscapes and unmistakable bright colors due to the presence of minerals in the subsoil.
Climate
Poggio La Pia is located in the internal area of Maremma nearby Civitella Marittima.
This area is characterized by colder winters and hotter summers with a greater chance of precipitation, the ideal climate for our cultivations.
Cultivars
At Poggio La Pia estate ETRURIO is growing a vast range of cultivars like:
Sikitita, Rossellino, Maurino Vittoria, Maremmano, Generosa, Koroneiki, F07, Lecciana, Rama Pendula and Arbequina and it's the place where the ancient germplasms are kept.
Seaside
The Maremma area has one of the most beautiful and unique stretches of coastline in Tuscany, miles of crystal clear waters and wide sandy beaches, small hidden coves and beautiful cliffs overlooking the sea.
Etruscans
The Maremma area was the craddle of Etruscan civilization, in fact Civitella Marittima was orginally an Etruscan village and part of the current city walls  are dated back to the Etruscan time.
Olive oils
At Poggio Rosso ETRURIO is producing five different extra virgin olive oil blends:
ALLEGRO, MOSSO, VIVACE, SOSTENUTO and VIVACISSIMO.
Poggio La Pia Estate
The Location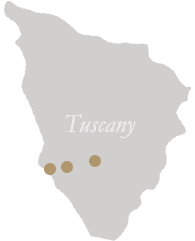 Poggio la Pia is located in a beautiful and uncontaminated area typical of the Tuscan landscape featured by the presence of oaks, cypresses, strawberry trees, myrtle, heather, broom and, of course, olive trees.
Watch the
Estate drone footage
Our address
Poggio La Pia estate, Località Le Cavallinaie, 58045 Civitella Paganico (GR), Toscana, Italy