The OliveGrove Partners Etrurio brand is a line of high quality olive oils, characterized, depending on the oil, with herbaceous and artichoke hints and spices aftertaste.
With the Etrurio line, olive oil stops being a simple condiment, and becomes a true sensory experience.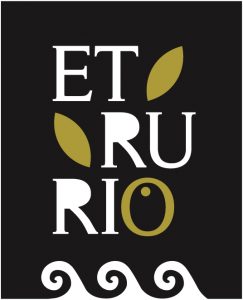 Our brands:
Etrurio Tradizionale
Etrurio Sostenuto
Etrurio Allegro
Etrurio Mosso
Etrurio Vivace
Etrurio Vivacissimo
When Olive Oil becomes a symphony
The Etruscans played percussion, string and wind instruments, in particular the flute in all its various forms, although the double flute was considered the national Etruscan instrument.
Music accompanied all their daily activities like: working, eating, civil and religious ceremonies.
Etrurio produces its olives in Tuscany, where the Etruscan society 3,000 year ago had the strongest presence.
The care and love we dedicate to the production of our range of olive oils enables customers to live a real unique sensory experience.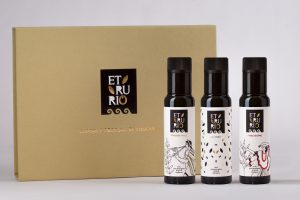 In November 2017 Etrurio produced its first 3 Extra Virgin Olive Oil cuveé: Allegro, Vivacissimo and Tradizionale. Here after you can find the organoleptic description of each Olive Oil: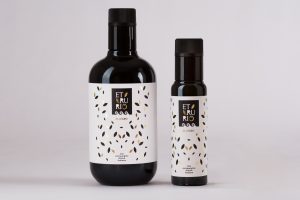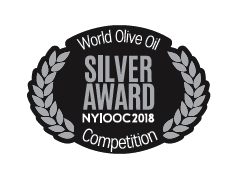 ALLEGRO
ALLEGRO is characterized by a remarkable sensation of freshness paired by delicate but persistent aromas.
The taste is perfectly balanced, with hazelnut aftertaste, artichoke, apple, and with pleasant herbaceous and floral scents.
Because of its organoleptic characteristics and by virtue of a very high degree of harmony it can be considered as a "universal" oil and therefore ideal for all types of gastronomic use.
Allegro attended the 2018 World's Best Olive Oils competition in New York for its very first time and it scored among this year's very best winning the prestigious Silver Award.
VIVACISSIMO
VIVACISSIMO is characterized by a remarkable and natural sensation of freshness. The taste is complex and elegant, with aftertaste of fresh grass, artichoke, hazelnut, almond, apple and green tomato, and with a long aromatic tail characterized by pleasant floral scents.
Because of its organoleptic characteristics it excels on grilled and roasted meats, mixed salads of all kinds, tomatoes, bruschetta, boiled vegetables, soups and legumes.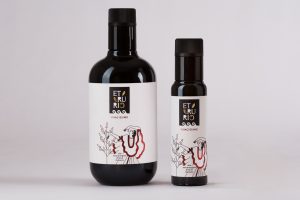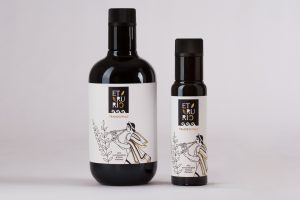 TRADIZIONALE
TRADIZIONALE is a green colored oil with golden reflections, to the taste is fragrant, with a long tail aromatic artichoke that closes with aftertaste of walnut, almond and hazelnut, fragrances typical of its area of origin.
Oil with an intense flavor and decisive main interpreter of Mediterranean cuisine. Ideal for meat, roasts, sauces, and bruschetta.