OliveGrove Partners are also involved in cultural and artistic heritage projects to develop and promote Italian art.
Find out how we recently discovered and are in the process of restoring a 14th century fresco in Tuscany.
The Forgotten Fresco
In 2016 Andrea Sozzi Sabatini bought an apartment in Scarlino (Tuscany, Italy) in which there is a fresco whose attribution, still unknown, has been traced back to a fine hand of the second half of 1400, probably Sienese.
Besides being a staggering discovery, the Tuscan fresco offers a unique opportunity to enhance and promote Italian excellence in artistic restoration. The restoration has been entrusted to the professionalism of Dr. Marco Marchetti.
The Scarlino frescoes were discovered in what was once known as the Holy Cross Oratory. The building, constructed in 1200 by Pannocchieschi, over the centuries has undergone various renovations. The scenes are related to a large Crucifixion. The visible section of the fresco depicts the elders, the Marie mourners and soldiers. The fresco has a high pictorial quality.
We are making a video documenting the work of the restorers Marco Marchetti and Isabella Gubbini in the recovery of the Sienese school fresco dated to 1430 found in the future company HQ in Scarlino.
Timelapse: Fresco Restoration
The documentary aims to illustrate the current techniques of pictorial restoration and retouching and to give testimony to the talents of two masters of Italian restoration whose work allows the preservation and enhancement of the Italian and international artistic heritage.
Survey by Professor Vittorio Sgarbi
The historical value of the fresco was confirmed by Professor Vittorio Sgarbi, who made a visit during the summer of 2016 and made this short video. (clicca qui).
Fresco Restoration
A short video showing the fresco discovered in Tuscany and details of the restoration project that is now under way produced by film maker Lara Peviani.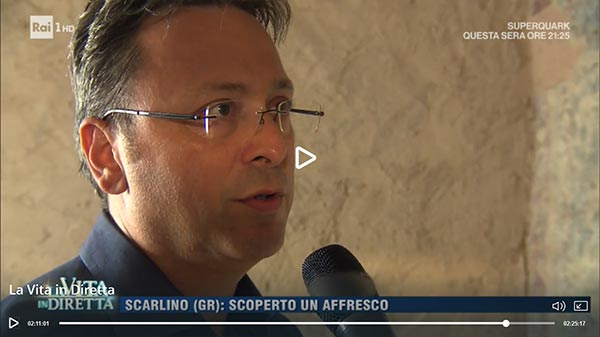 Featured on Italian TV RAI
The fresco was was recently featured on the top Italian TV channel RAI 1.
View documentary (jump to 2:07:15 to view)
ETRURIO Museum and FAI
The Best of ITALY – ETRURIO is proud to announce the pre-opening of the ETRURIO Museum on the 24th and 25th of March in collaboration with FAI, Fondo Ambientale Italiano, during the Spring Opening Days.
MUSEUM AND CREATIVE INDUSTRIES
The NEMO Working Group Museums and Creative Industries recently presented a report with case studies of successful collaborations between museums and the creative sectors from across Europe. The ETRURIO MUSEUM project was acknowledged as one of the most interesting cases.
NE-MO website

click here for the article